Wireless Pt100 Probe/Transmitter Assembly for Use in Hygienic Applications
UWRTD-TW-NB9W Wireless Temperature Sensors/Transmitters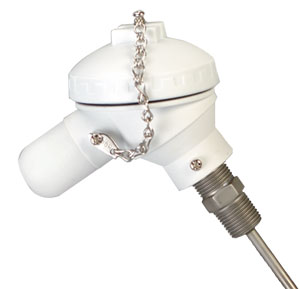 Pt100 Temperature probe with wireless transmitter
€523,39 UWRTD-NB9W-1PT304-14-4


Stainless Steel Construction with White Polypropylene Transmitter Housing
Complete, Ready to Install and Operate Assembly is Available With Optional 3-A Approved Thermowells for CIP (Clean-in-Place) Hygienic Applications
Wireless Radio Transmitter and Antenna are Housed in the Probe Head
Free Software Converts Your PC Into a Multi-Channel Chart Recorder or Data Logger
Interface up to 48 Different Wireless Transmitters With One USB Receiver
Low Power Operation and Sleep Mode Allows for Long Battery Life
Each Wireless Probe Assembly Transmits Process Temperature, Ambient Temperature, Signal Strength and Battery Status in Real Time
Works with All OMEGA™ UWTC Series USB or Web Enabled Ethernet Receivers and Wi Series Meter/ Controller/Scanner and DIN Rail Receivers
Sensori wireless, trasmettitori, ricevitori , misuratori e controllori - Visualizza i prodotti correlati
Descrizione
Click on this link if you need more information about Sanitary Sensors.

OMEGAs new Wireless RTD Probe Assemblies - UWRTD-NB9W Series for hygienic applications feature a complete, ready to install, pre-wired PT100 sensor and wireless transmitter package. Each battery powered wireless unit will transmit measurements back to a host receiver up to 120 m (400') away. Each unit comes factory assembled, tested, calibrated and preprogrammed for fast installation. When activated, the unit will transmit readings continuously at pre-set time intervals that were programmed by the user during initial setup and installation. Each unit measures and transmits: process temperature, ambient temperature wireless link signal strength and battery condition to a remote host and the data is displayed on the PC in real time using the free provided software.

SPECIFICATIONS
Available Types: 100 Ω (standard), 500 Ω, 1000 Ω (special order)
RTD Measurement Range:
0.00385: -200 to 850°C (-328 to 1562°F)
0.00392: -100 to 457°C (-148 to 854°F) (special order)
RTD Measurement Accuracy: ±0.5°C (1°F) of reading
RTD Measurement Resolution: 1°C/1°F
Operating Environment: -10 to 70°C (14 to 158°F)
RTD Probe/Sensor: Pt100, Class "A"
Computer Interface: USB (one programming cable included with all receivers)
Transmit Sample Rate: Programmable from 1 sample/minute to 1 sample/ every 5 seconds Radio Frequency (RF) Transceiver
Carrier: ISM 2.4 GHz, direct sequence spread spectrum, license free worldwide
RF Output Power: 10 dBm (10 mW)
Range of RF Link: Up to 120 m (400') outdoor line of sight; up to 40 m (130') indoor/urban
Software (Included Free): Requires Windows® 98, ME, 2000, XP or Vista (32 bit)
Internal Battery: One 3.6V lithium, 8.4 Ah capacity (C-cell) included
Battery Life (Typical): (3 years) 1 sample/minute reading rate @ 25°C (77°F)
Data Transmitted to Host: Process reading, ambient reading, transmit strength and battery condition
Probe Assembly Material: Stainless Steel
Transmitter Housing Material: White polypropylene head

Because of transmission frequency regulations, these products may only be used in the United States, Canada and Europe.

† Tutti gli importi indicati in EUR
Nota: Because of transmission frequency regulations, these products may only be used in the United States, Canada and Europe.
Esempio di Ordinazione: (1) UWRTD-NB9W-1PT304-14-6 Wireless Pt100 probe/transmitter. 1/4, €540.54