Product Not Available Outside of the USA
Vedi tutti i modelli qui sotto

These enclosures are currently only available on special quotation, please review our range here for a possible alternative, or contact our sales department for a quotation.
Seams Continuously Welded and Ground Smooth, No Holes or Knockouts
Strong, Rigid Construction
Lifting Eyes for Easy Handling
Padlocking or Keylocking Handle and 3-Point Operating Mechanism and Tamper-Resistant Hardware is Included
Latch Rods Have Rollers for Easier Door Closing
Concealed Hinge
Flange Trough Collar Around All Sides of Door Opening
Removable Print Pocket Provided On Door with 3-Point Latch
Mounting Channels Welded Horizontally On Sides of Interior Body At Top, Bottom and Middle for Mounting Optional Panels or Rack Mounting Angles
Oil Resistant Gasket
Removable and Interchangeable Doors
Ground Stud On Door
Descrizione
Application
The SCE-FSDA series indoor/outdoor electrical enclosures are designed to house electrical and electronic controls, instruments and equipment in areas which may be regularly hosed down or are in very wet conditions. These electrical control panels provide protection from dust, dirt, oil and water. This outdoor electrical control panel is the solution for waterproof and weatherproof applications. The enclosures are extra deep for applications requiring more interior space.
by Saginaw Control
Finish
White powder coating inside and ANSI-61 recoatable gray finish outside over phosphatized surfaces. Optional panels are powder coated white.

Industry Standard IS3
NEMA Type 3R, 12 & Type 13
UL Listed Type 3R, 12
CSA TYpe 3R, 12
IEC 60529 IP 55

Industry Standard IS4
NEMA Type 3R, 4, 12 & Type 13
UL Listed Type 3R, 4, 12
CSA TYpe 3R, 4, 12
IEC 60529 IP 66

Note: To meet 3R rating, a drip shield is required for snow, sleet and ice.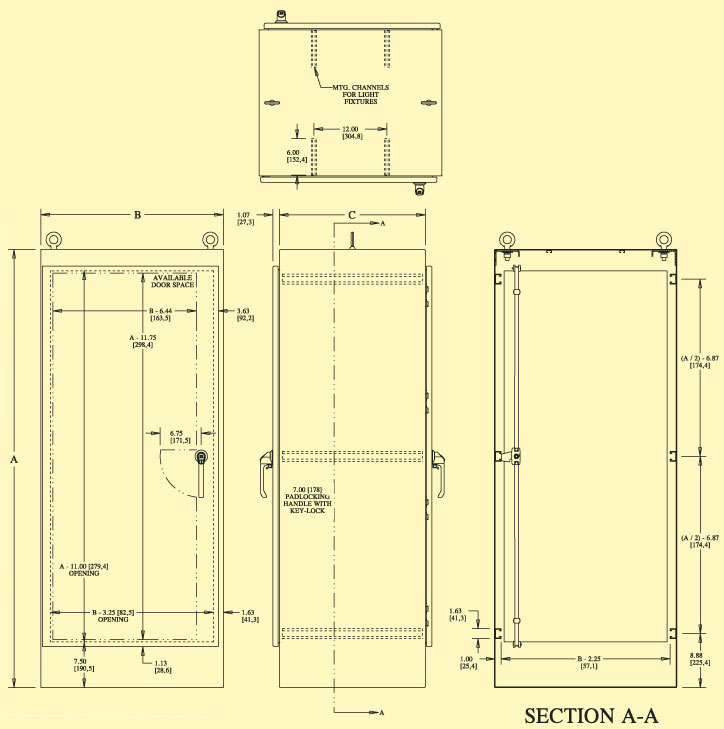 † Tutti gli importi indicati in EUR